What is Microdermabrasion for the face and what are the benefits?
Microdermabrasion for the face reduces signs of premature ageing and saving both your complexion and the time spent searching for that miracle cream. You may be running out of time in your average day to care for your skin but you shouldn't have to run out of options.
We explore whether the DIY home kit or Microdermabrasion treatments is a wiser investment in giving you long term radiant skin so you can look and feel your best all year round! 
What is Microdermabrasion?
Minimally invasive, Microdermabrasion treatments focus on exfoliating the skin by 
Encouraging cell turnover

Reduce acne scarring 

Repairs and restores youthful skin

Evening out skin tone
How does Microdermabrasion work?
Using a diamond tipped wand, we gently exfoliate the skin's topmost layer, removing dead skin cells and microscopic debri through a gentle vacuuming process. This clears congested pores, dull dehydrated skin, blackheads, textured skin as well as promotes cell turnover.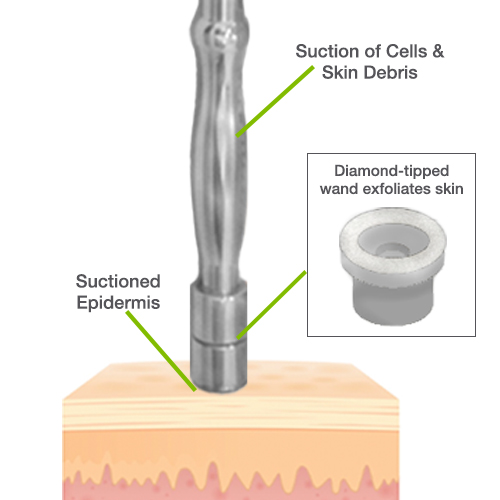 Is Microdermabrasion the right treatment for me?
We tailor treatment programs according to your skin priorities. For sessions shorter than a lunch break, there's the Micro Express and Micro combined with LED Light Therapy. 
We get it – everyday life catches up to us as fast as dull, lacklustre skin does. With a range of treatment programs, there's a program that'll suit your lifestyle. With quick start and maximum results, the program is valid for a year allowing you to treat yourself (quite literally) when you want! 
Book in a complimentary consultation with one of our passionate team of therapists today to see how you can your turn your skin from looking grey to YAY!
Everyone wants results quick but are DIY home Microdermabrasion kits worth it?
At-home microdermabrasion kits seem to provide a cheaper cost per treatment in comparison to Microdermabrasion treatments at Results Laser Clinic. However, there are several factors that you need to consider before clicking "Add to shopping cart!"
The grade and purity of the diamonds used in the microdermabrasion wand

Experience of the person performing the microdermabrasion treatment 

Whether aftercare support is provided 
Incorrect use or substandard equipment can leave you with irritated skin which can leave you prone to breakouts. 
Unlike at home DIY kits, Microdermabrasion Treatments are performed by a qualified clinical therapist using a diamond tipped wand, to ensure that your exfoliation journey is as smooth as your skin to-be. 
HANDHELD MICRODERMABRASION DEVICES
PROS
CONS
No consultation that is tailored towards your skim priorities

Results may vary per individual due to the application process and skill level of the user 

Grade and purity of the diamonds used aren't guaranteed

No aftercare support

No aftercare products 
MICRODERMABRASION TREATMENTS
PROS
Consultation prior to treatment allows you to receive personalised treatments in order to achieve optimum results

Performed by a qualified skin clinician 

Aftercare support including products which have been formulated to be used in conjunction with the treatment 

Minimal downtime